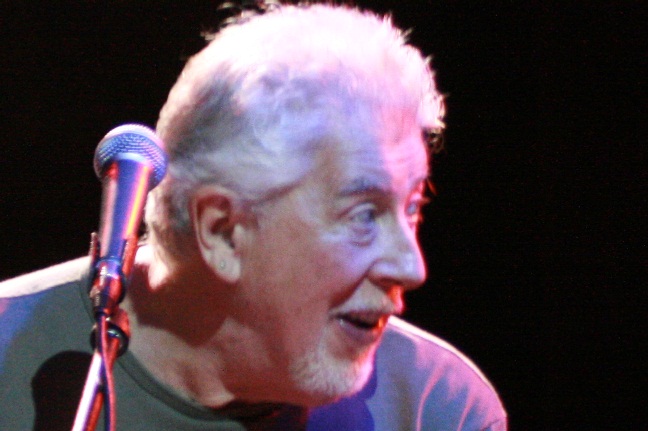 Einen meiner letzten Tweets möchte ich doch erklären. Am 15.06.2010 schrieb ich gegen 23:30 Uhr Hammer: #room_to_move #john_mayall #berlin. John Mayall, geb. am 29. November 1933 in England, gilt inzwischen die Legende der weißen Bluesmusik. Eric Clapton, Jack Bruce, Peter Green, John McVie, Mick Fleetwood, Mick Taylor, Jon Hiseman, Dick Heckstall-Smith, alle hatten seit den frühen 60er Jahren irgendwann bei ihm gespielt - die meisten ganz am Anfang ihrer Karriere. Ich hatte ein Konzert von ihm vor einigen Jahren besucht und war - sagen wir mal - nicht wirklich überzeugt. Durchaus routiniert, mitunter schablonenmäßig wirkte die Musik. Dann hieß es vor wenigen Jahren, John Mayall hätte sich von seiner alten Begleitband, den Bluesbreakers, getrennt, um noch mal etwas Neues anzufangen. Wohl gemerkt, mit über 70 Jahren. 2009 sah ich ihn mit seiner neuen Begleitband in einem Doppelkonzert in Cardiff, Wales zusammen mit B.B. King. Der Set von Mayall war der eindeutig bessere. Als hätten sie den Blues gerade erst erfunden, so klang die Band: Frisch, lebendig, voller Überraschungen und mit einer großen Neugier der Musiker auf die Beiträge der jeweils anderen. Eine musikalische Dynamik, die sich auf der Bühne hochzuschaukeln schien. Wegen des Top-Acts B.B. King war Mayalls Auftritt eher kurz, und so war seine 2010 Tournee für mich der Anlass, erneut hinzugehen.
Ich habe eigentlich an diesem Abend in Pankow eine Sitzung des Sozialausschusses gehabt, die noch bis 21:30 Uhr gedauert hätte. Ich habe die Sitzung eine Stunde früher verlassen, um noch rechtzeitig das um 21:00 Uhr beginnende Konzert im Columbia Club erreichen zu können. Wie immer bei einem zweiten Mal war ein Stück von der ursprünglichen Begeisterung nicht mehr zu finden. The thrill is gone - wie B.B. King es ausgedrückt hätte. Das Konzert war dennoch auf einem hohen Niveau, was Spielfreude und Virtuosität anbetrifft, und sehr kurzweilig, denn ich war sehr überrascht, als Mayall dann "a new room to move" ankündigte, seinen bekanntesten Hit, der das Ende seines Auftritts einläuten würde. So schnell waren die erwartbaren 90 Minuten seines Auftritts vergangen? Was dann folgte, waren unglaubliche 20 Minuten, in denen Mayall und seine Begleitmusiker diesen Raum noch einmal neu durchmassen. Der Song ist ohnehin schon größer als er selbst. Aber war jetzt folgte, war wilder, exzessiver, dynamischer, spielfreudiger als alles, war ich von den Platten kannte. Als hätten Mayall und seine Band gerade erst entdeckt, dass es möglich ist, mit Musik Bewegungsräume zu erforschen, betraten Mayall mit Harmonika und Scatgesang, und insbesondere der Bassist Greg Rzab und der Schlagzeuger Jay Davenport neue Wege. Fünf Musiker verwandelten für gute 20 Minuten einen oft gehörten Klassiker in wilde, euphorische, immer wieder überraschende, treibende mitreißende Bluesexzentrik. Die Botschaft dieses Songs ist nicht gerade spektakulär, wird aber immer wichtiger. Um so zu sein, wie ich bin, wie ich sein will, brauche ich Raum. Raum um mich zu entfalten, auszuleben, auszudrücken. Gestaltungsräume, Frei-Räume, Rückzugsräume. Es bietet sich an, darüber immer wieder neu nachzudenken. Und so spielt Mayall mit seiner Band dieses Stück dann auch mit einer Überzeugung, als wolle er es noch einmal allen zeigen: Die Gültigkeit seiner Musik im globalen 21. Jahrhundert.
Warum ich das hier aufschreibe: Eigentlich hätte ich im Sozialausschuss sitzen sollen, wo wir uns häufig mit dem Thema des Demografischen Wandels und Seniorenpolitischen Fragestellungen befassen. Statt dessen gehe ich auf ein Konzert und erlebe, wie ein mit 76 Jahren durchaus alter Mann auf der Bühne steht, der etwas tut, was ich nicht erwartet hätte. Er nimmt seinen Hit, einen Song, der größer ist als er selbst, und bearbeitet ihn nochmal völlig neu: souverän, neugierig, selbstbewusst, intensiv, wild, exzessiv.  Ich lerne, wie aktives Altern auch sein kann: Nimm das Kapital Deines Lebens, und übersetze es nochmal neu in den gegenwärtigen Kontext der Zeit. Schare Leute um Dich herum, die Deine Gedanken aufgreifen, damit arbeiten, sie weiter spinnen und vorantreiben, neu und  anders interpretieren. Sei neugierig auf die Resonanz, die Du bei anderen erzeugst und lasse diese Resonanz auf Dich wirken.  Gehe den Weg mit, den andere weiter gehen, so gut Du kannst. Ich glaube, ich war an diesem Abend nicht nur auf einem Konzert. Ich habe von einem alten Mann lernen können, welche Spielräume sich mit dem Älter werden neu ergeben. Eine Art musikalisches Testament, schon zu Lebzeiten zelebriert. Danke, John.
May seem peculiar
How I think o' you
If you want me, darlin'
Here's what you must do
You gotta give me
'cause I can't give the best
Unless I got room to move

If you want me darlin'
Take me how you can
I'll be circulating
'cause that's the way I am
You gotta give me
'cause I can't give the best
Unless I got room to move